Metal Sealing Ball Valve ANSI
Type
:Q41F/H-150LB
Features
:ANSI Soft Seal Gate Vale, JIS Soft Seal Gate Vale, Float Ball Valves
Performance Specifications
Nominal Pressure
(PN)
1.6
2.5
4.0
6.4
Shell Test Pressure
2.4
3.8
6.0
9.6
Sealing Test (Liquid)
1.8
25.8
4.4
7.0
Sealing Test (Gas)
0.5~0.7
Applicable Medium
 C      P     R
Water, Oil, Steam   Nitrose  Nitric Acid
Applicable Temperature
≤200
Main Parts Materials
Name
WCB Category
CF8 Category
CF3 Category
CF8M Category
CF3M Category
阀体左体
A216-WCB
A315-CFB
A35-CF3
A351-CF8M
A351-CF3M
Sphere
B2-B8
A105-1025
A182-F304L
A182-F304L
A132-F316
A182-F316L
B8 above
A216-WCB
A351-CF8M
A351-CF3
A351-CF8M
A351-CF3M
Valve Rod
A182-F6a
A182-F304
A182-F304L
A182-F336
A182-F316L
Valve Seat
-
PTFE/增强PTFE/NYLIN
Seat Retainer
A105-1025
A182-F304
A182-F304L
A182-F316
A182-F316L
Spring
-
3yc-7/17-49H
O-Rings
NBR
Fluororubber
Stud
A193-B7
A193-B8
Nut
A194-2H
A194-8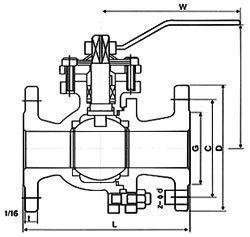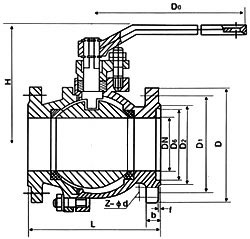 10K Dimensions and weights:
Dimensions
inch
1/2″
3/4″
1″
1-1/2″
2″
2-1/2″
3″
4″
5″
6″
8″
10″
DN
15
20
25
4
50
65
80
100
125
150
200
250
L
mm
108
117
127
165
178
190
203
229
356
394
457
533
H
mm
59
63
75
97
107
142
152
178
252
272
342
345
W
mm
130
130
160
230
230
400
400
700
1100
1100
1500
1500
Weight
㎏
2.3
3.0
4.5
7.0
9.5
15.0
19.0
33.0
58.0
93.0
160.0
200.0
20K Dimensions and weights:
Dimensions
inch
1/2
3/4
1
1-1/2
2
2-1/2
3
4
5
6
8
10
DN
15
20
25
4
50
65
80
100
125
150
200
250
L
mm
140
152
165
190
216
241
283
305
381
403
502
568
H
mm
59
63
75
97
107
142
152
178
252
272
342
345
W
mm
130
130
160
230
230
400
400
700
1100
1100
1500
1500
Weight
㎏
2.5
3.5
5.5
10.5
14.5
23.5
30.0
55.0
81.0
118.0
200.0
250.0
metal sealing ball valve ANSI 150LbOverall Dimension:
Nominal Size
Unit
L
D
T
G
C
n-Φd
W
H
in
mm
1/2″
15
㎜
108
89
12
35
60.5
4-15
115
72
in
4.25
3.5
0.47
1.38
2.38
4-0.59
4.53
28.3
3/4″
20
㎜
117
98
12
43
70
4-15
115
76
in
4.61
3.86
0.47
2
3.13
4-0.59
5.9
3.62
1″
25
㎜
127
108
12
51
79.5
4-15
150
92
in
5
4.25
0.47
2
3.13
4-0.59
5.9
3.62
1-1/2″
40
㎜
165
127
14.3
73
89.5
4-16
200
123
in
6.5
5
0.56
2.88
3.88
4-0.62
7.87
4.84
2″
50
㎜
178
152
15.9
92
120.5
4-19
200
132
in
7
6.00
0.625
3.62
4.75
4-0.75
7.87
5.20
2-1/2″
65
㎜
190
178
17.5
105
139.5
4-19
320
164
in
7.5
7
0.69
1.12
5.50
4-0.75
12.6
6.45
3″
80
㎜
203
190
19.1
127
152.4
4-19
320
173
in
8
7.50
0.75
5
6
4-0.75
12.6
8.6
4″
100
㎜
229
229
23.9
157
190.5
4-19
450
210
in
9
9
0.94
6.19
7.5
4-0.75
17.72
8.26
6″
150
㎜
394
279
26
216
241.5
8-22
8000
288
in
15.5
10.98
1.02
8.5
9.50
8-0.88
31.5
1.34
8″
200
㎜
457
343
29
270
298.5
8-22
1120
374
in
18.00
13.50
1.12
10.62
11.75
8-0.88
44.10
14, .72
10″
250
㎜
533
406
31
324
362
12-25
1420
366
in
20.98
16
1.2
12.75
14.75
12-1
55.12
14.40
12″
300
㎜
610
483
32
381
432
12-25
1420
412
in
24
19
1.26
15
17
12-1
55.12
16.22
Metal sealing ball valve ANSI 300LbOverall Dimension:
Nominal Size
Unit
L
D
T
G
C
n-Φd
W
H
in
mm
1/2″
15
㎜
140
95
15
35
66.5
4-15
115
72
in
5.51
3.74
0.59
1.38
2.62
4-0.59
4.53
28.3
3/4″
20
㎜
152
117
16
43
82.5
4-19
115
76
in
5.98
4.61
0.62
1.69
3.25
4-0.75
4.53
29.9
1″
25
㎜
165
124
18
51
89
4-19
150
92
in
6.5
4.9
0.71
2
3.5
4-0.75
5.9
3.62
1-1/2″
40
㎜
190
156
20.7
73
114.5
4-22
200
123
in
7.5
6.12
0.81
2.88
4.51
4-0.88
7.87
4.84
2″
50
㎜
216
165
22.3
92
127
8-19
200
132
in
8.5
6.5
0.88
3.62
5
8-0.75
7.87
5.20
2-1/2″
65
㎜
241
190
25.4
105
149
8-22
320
164
in
9.5
7.5
1
4.12
5.87
8-0.88
12.6
6.45
3″
80
㎜
283
210
28.5
127
168.5
8-22
320
173
in
11.25
8.25
1012
5
6.62
8-0.88
12.6
6.8
4″
100
㎜
305
254
31.8
157
200
8-22
450
210
in
12
10
1.25
6.19
7.88
8-0.88
17.72
8.26
6″
150
㎜
403
318
36.6
216
270
12-22
1120
336
in
15.875
12.5
1.44
8.5
10.62
12-0.88
44.10
13.23
8″
200
㎜
502
381
42
270
330
12-25
1420
385
in
19.76
15
16.5
10.62
12.99
12-1
55.12
15.16
10″
250
㎜
568
444
48
324
387.5
16-29
1420
370
in
22.36
17.50
1.89
12.75
15.25
16-1.12
55.12
14.56
Statement: this information is just for reference, for detailed information, please contact us.
Related Valve Products
Forge Steel Fixed Ball Valve1 A pressed-steel or stainless hand grip with stopper can be used in manual part. The hand grip is settled on or of the position. When the valve plays...
Three-section Fixed Ball Valve ANSI1.All parts of the three-section fixed ball valve ANSI are forged..
2.The lower-loading Stem with backward sealing constructio
3.The three-section fixed ball ...