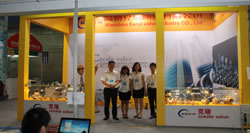 Wenzhou Kerui Valve Industry Co., Ltd is a manufacture company possessing years of experience in the production and marketing in Wenzhou, China. So far, the second manufacturing center covers an area of 50000 square meters, and is equipped with CNC machining centers, more than 300 plasma welding, full-automatic gas shielded welding, semi-automatic vacuum welding, overclocked vacuum heat treatment, NC lathes for ball, efficient processing machine, physicochemical and testing equipments. These advanced equipments provide high-quality valve products.  The company fully implements the ISO9001 quality management system, 6S and 6Sigma management. Compared with the domestic industry, Wenzhou Kerui Valve Industry Co., Ltd saves cost and improves quality through reasonable management system.
The gate, globe, ball, check valves, butterfly valve, hydraulic control valve, balanced valve, reducing valve of Wenzhou Kerui Valve Industry Co., Ltd meet international standard and approved by many international authentication. They are widely used in chemical industry, metallurgy, electric power, construction, ventilation, food, pharmacy, pluming work, papermaking, petroleum industries and sewage treatment, environmental protection, etc. The products have come up to the advanced world level by years of usage. We promise you a short delivery time and keep a large stock of valves. We are looking forward to cooperating with you.
Advantages of our Valves
1. Technical Advantage
1) Our ball valves, gate valves, globe valves, check valves and forged steel valves are excellent in sealing performance and have long service life. They are easy to open and close.
2) The surface of our valves is polished twice, smooth and bright.
3) The valve clack adopts high-precision numerically-controlled machine tool to process.
2. Strict Quality Control
Before manufacturing ball valves, gate valves, globe valves and other valves, we conduct the inspection of all raw materials, which can be put into process after testing. During the process, we conduct sampling inspection, and the proportion is 10%. After the process, we also conduct sampling inspection of all the final products, and the proportion is also 10%.
3. Annual Output
We have the ability to annually manufacture 3500 ton ball valves, 1500 ton gate valves, 1000 ton globe valves, 500 ton check valves, and 500 tom strainers.
4. Environmental Production
Our ball valves, gate valves, globe valves and other valves are manufactured in an environmental process.
5. Pre-sale Service
We will provide samples for our customers for free before confirming the products, but the freight should be assumed by customers. If the products are what customers want, we will deduct the freight in the order.
6. In-sale Service
1) During the process, we will offer work flow pictures of products, letting customers know each procedure and needed time.
2) The domestic delivery time is about 20 days, and overseas delivery cycle needs 30 days. But this should be concluded according to what kind of products and quantity of products.
7. After-sale Service
If our ball valves, gate valves, globe valves and other valves have quality problems in the first month, we promise to change a new one. Within 18 months, we provide maintenance.
8. Optional Service
1) We can customize these products according to customers' requirements.
2) If relevant installation and maintenance training is needed, we will provide on-site instruction service.
9. OEM Service
We do provide OEM service for our ball valves, gate valves, globe valves and other valves.
Related Valve Products