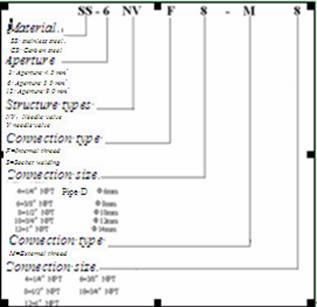 1.Design Functions:
1.There are 2 slices of non- rotating sclerosis rapid sealing, which can ensure long service life (17-four ph);
2.The driver thread presents packing seal to prevent the pollution of process medium;
3.Temperature rating: -15℃-170℃;
4.Flexible packing replacement can further extend the service life;
5.The main components are traceable materials;
6.We adopt 100% static test;
7.The rear sealing stem can extend the packing use time.
2. Valve Flow Figure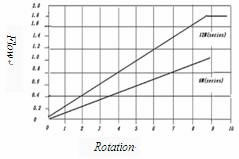 3. Original Material:
Parts
Main materials
SS316
A105      CS
Hand shank
SS304
Jim nut
SS304
Cap
SS316
A105
Gland bolts
SS316
A105
Decorative cover
SS316
A105
Valve seat
SS316
2Cr13
Packing
Flexible graphite / PTFE / carbon fiber
Valve gasket
SS316
SS304
Stem
SS316
A105
Stem
SS316
2Cr13
Double nut
SS316
Lubrication
MoS2
Note: The materials can be chosen according to your requirements.
4. Size Standard: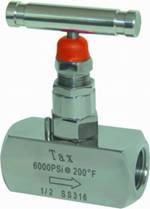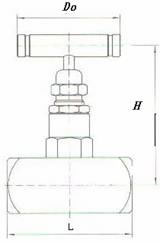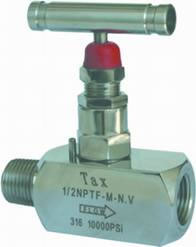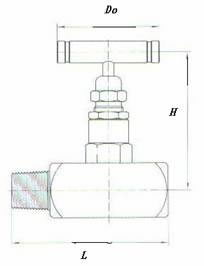 | | | | | | |
| --- | --- | --- | --- | --- | --- |
| NO. | Joint size | L | H | Do | Weight/Kg |
| SS-3NVF4 | 1/4〞NPTF | 57 | 65 | 57 | 0.4 |
| SS-3NVF6 | 3/8〞NPTF | 57 | 65 | 57 | 0.4 |
| SS-6NVF8 | 1/2〞NPTF | 68 | 78 | 63 | 0.5 |
| SS-12NVF10 | 3/4〞NPTF | 80 | 95 | 80 | 1.0 |
| SS-12NVF12 | 1〞NPTF | 90 | 100 | 90 | 1.4 |
| | | | | | |
| --- | --- | --- | --- | --- | --- |
| NO. | Joint size | L | H | Do | Weight/Kg |
| SS-3NVF4-M4 | 1/4〞NPTMXF | 68 | 65 | 57 | 0.4 |
| SS-3NVF6-M6 | 3/8〞NPTMXF | 68 | 65 | 57 | 0.4 |
| SS-6NVF8-M8 | 1/2〞NPTMXF | 86 | 78 | 63 | 0.6 |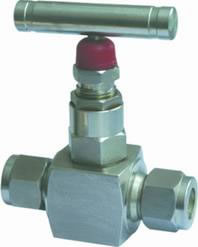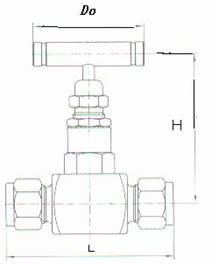 | | | | | | |
| --- | --- | --- | --- | --- | --- |
| NO. | Joint size | L | H | Do | Weight/Kg |
| SS-3NVS6 | Ф6 | 76 | 65 | 57 | 0.45 |
| SS-3NVS8 | Ф8 | 76 | 65 | 57 | 0.45 |
| SS-6NVS10 | Ф10 | 78 | 65 | 57 | 0.45 |
| SS-12NVS12 | Ф12 | 78 | 65 | 57 | 0.5 |
| SS-12NVS12 | Ф14 | 92 | 78 | 63 | 0.6 |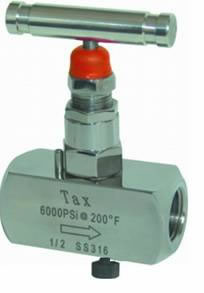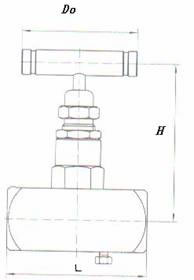 | | | | | | |
| --- | --- | --- | --- | --- | --- |
| NO. | Joint size | L | H | Do | Weight/Kg |
| SS-3NVF4-D | 1/4〞NPTF | 57 | 65 | 57 | 0.4 |
| SS-3NVF6-D | 3/8〞NPTF | 57 | 65 | 57 | 0.4 |
| SS-6NVF8-D | 1/2〞NPTF | 68 | 78 | 63 | 0.5 |
| SS-12NVF10-D | 3/4〞NPTF | 80 | 95 | 80 | 1.0 |
| SS-12NVF12-D | 1〞NPTF | 90 | 100 | 90 | 1.4 |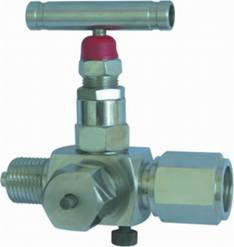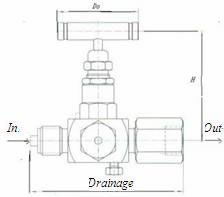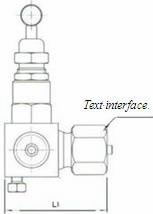 | | | | | | | | |
| --- | --- | --- | --- | --- | --- | --- | --- |
| NO. | In |  Out | L | L1 | H | Do | Weight/Kg |
| SS-6NVGF8-M8 | G1/2〞A | G1/2〞 | 106 | 58 | 78 | 63 | 0.65 |